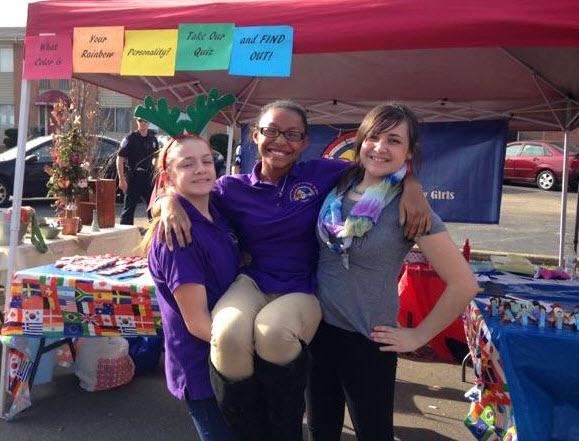 In December, Richmond Assembly participated in Christmas on MacArthur. The parade was amazing. Once the parade started we got to see dogs for adoption, clowns, and listen to great music. At our Rainbow booth, we got to teach girls about Rainbow and tell the parents of younger kids about our Rainbow Pledges. We also gave out Rainbow bracelets and did personality quizzes that told girls what "color" their personality was. Most of the girls who took the test were "green" and me and Jessica were happy since we are "green" too. Green says:
"You're responsible, fair, and goal-oriented. You make friends easily, are good at following directions, and can't relax with homework hanging over your head. You work best in teams and love to win. But you can become too focused on your own goals and brush off your friends in a mean way when they don't fit in with your plans. What can Rainbow offer you? Lots of friends! Lots of opportunities to compete for awards, individually and as a team. In Rainbow you will learn that we all have different strengths and weaknesses, and when each person does what they do best, you can overlook people's faults, because the Assembly as a whole wins!"
Later on we got pizza and soda. So the parade and prospect booth were really great and we hope we can do it again next year!
In RL&S,
Victoria
Richmond Assembly #10
Tags:
Fun
,
Prospects
,
Richmond