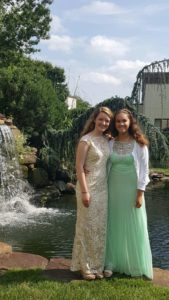 On Friday, August 11th, I went to New Jersey's Grand Assembly. I went with Isabella, Mom Louisa, and my mom. We drove all day to get up to New Jersey, made a quick stop at our hotel to change into formals and get ready, and then drove another hour and a half to get to the Grand Assembly.
When we got there, we went to the Grand Officers Banquet first. Isabella and I were seated with the Grand Officers. They were all so nice and friendly, and they helped us feel a lot better about not knowing anyone. At the end of the Banquet, the Grand Worthy Advisor, Jenna Brink, was presented with some end-of-term gifts, including a homemade quilt and some scrapbooks about her year in office.
After our meal, we attended the opening session. Important guests were introduced, speeches were given, and I was allowed to speak about Olivia's year as GWA of Virginia. The Grand Representatives also had a costume contest like we're going to have this year. They each dressed up as a representation of their state, and some of them were really creative and impressive. I watched for the Grand Representative to Virginia, who was dressed as Harry Potter to go with Rachal Murray's theme from last year.
To close the Session, they announced the Grand positions for the next year. Lydia Anderson-Dearborn was appointed as my counterpart, and Amy Wilkie was appointed as Grand Worthy Advisor. Lastly, they performed the Book of Memories ceremony, which was beautiful as always.
I really enjoyed New Jersey's Grand Assembly, and I wish I could have stayed for the whole thing. I'm also looking forward to corresponding with Lydia for the next year and learning as much about New Jersey Rainbow as possible.
In Rainbow Love & Service,
Kate
Tags:
Fidelity
,
Love
,
Manassas
,
Travel