On Saturday, May 19, 2012, Michelle, her mom "Mom Baise" and I went on a Rainbow road trip to the garden state otherwise known as New Jersey. At first I was skeptic about going, I mean come on… New Jersey is a LONG way away from my home in Virginia. We had a 7 hour road trip ahead of us. So we started off and 1000 toll booths later were almost there.  Along the way we passed a farm and we saw a horse without its lead rope attached to anything and Michelle says " Oh my gosh it doesn't have its leash attached.  I was ready to bust out laughing. So later when we were almost there she kept going on and on about that horse so I finally told her "Michelle, it's not a leash it's a lead rope" and she was like "WHAT!!!" We finally got to New Jersey and I was like WWWAAOOH because almost EVERYTHING was different. The girls where all wearing white and near the end of introductions we felt like pogo sticks from getting up and down over and over again. But it was fun and I loved it!
Installed as Worthy Advisor of Iris Assembly No. 31 was Victoria.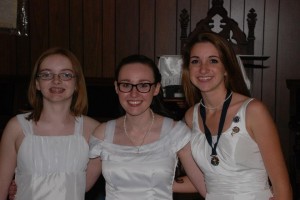 Theme:  Whatever you do, work at it with all your heart.
Motto:  Everyone wants happiness, no one wants pain, but how can you make a rainbow without a little rain?
Symbols:  Hearts and Watches
Mascots:  Butterflies
Colors:  Red, Blue and Green
Song:  "Gone Too Soon" by Simple Plan
Bible Verse:  John 11:  25-16
Flowers:  Red and White Roses
Charity Project:  American Heart Association Just Dance-a-thon and Heart Disease Awareness pin sales
Service Project:  Food Pantry at Saint Paul's Church in Brick
Assembly Fundraiser:  Car Wash at Saint Paul's Church in Brick
In Rainbow Love and Service
A fellow rainbow girl from Smithfield Assembly #5
Vicki