Richmond Assembly #10
Richmond Assembly #10 International Order of the Rainbow for Girls meets on the second and fourth Tuesday each month (except December – only the second Tuesday) at 7:30 pm at the Scottish Rite Temple, upstairs lodge room, located at 4204 Hermitage Road, Richmond, Va. 23227.  Richmond Assembly #10's Pledge Group meets on the second Tuesday of each month at 6:30pm.  If you would like more information about how to join, please email us at: 

RichmondRainbow10@gmail.com

.
Check us out on our website www.richmondrainbow.org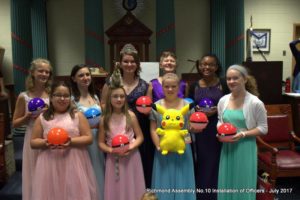 OFFICERS:
Worthy Advisor – Brianna
Worthy Associate Advisor – Sierra
Charity – Jessica
Hope – Victoria
Faith – Taylor
Chaplain – Angelina
Drill Leader – Amber
Love – Emma
Religion–
Nature–
Immortality–
Fidelity–
Patriotism–
Service–
Confidential Observer – Rachel
Members at Large – Madi, Athena, Sophie, Lizzy, Rhianna
Mother Advisor – Shanon Jackson
OUR CURRENT TERM:
THEME:    Pokémon – "Catch the Rainbow"
MOTTO:    Deus Juvat (God Assists)
MASCOT:    Jackalope
SYMBOLS:    Poké-Balls and Pokémon related symbols
COLORS:    Red and White
FLOWER: Thistle
HONOR STATION:    Chaplain
SCRIPTURE:   Isaiah 40: 30-31
CHARITY:   IORG Supreme 2018 and Scottish Rite Childhood Language Center
FUNDRAISERS:    Bake sales, Rada Cutlery and PeachSkin Sheet sales, Jeans Night for Scholarship, Car washes
SERVICE PROJECTS:   Making pillowcases for the Children's Hospital of Richmond, Masonic Lodge and Scottish Rite Programs
FUN EVENTS:     Haunted House, Movie Night and Sleepover, and more