Manassas Assembly #13
Manassas Assembly – International Order of the Rainbow for Girls meets on the second and fourth Tuesday each month at 7:30 pm at Manasseh Lodge .
Our Pledges – Faith Pledge Group – meets prior to the Rainbow meeting on the 4th Tuesday at 7:00 pm. For information on joining us, please email us at: Mannassas@virginiarainbow.org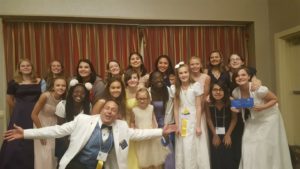 Manassas Assembly following the Grand Banquet at Grand Assembly.
Manassas Assembly is the home assembly of the following Grand appointments:
Grand Officers:
Grand Faith – Gigi
Grand Love – Katie
Grand Patriotism – Vanessa
Grand Representatives:
Alaska & Massachusetts: Zoe W
Arizona & Connecticut: Dalanie
Florida & Nevada: Isabella
Hawaii & New Jersey: Kate
Illinois: Zoe N
Oklahoma & South Carolina: Sami D
Grand Flag Bearers:
American: Zoe N
Virginia: M'Balu
Christian: Maribel
Eastern Star: Joella
Amaranth: Batu
Grand Page:
Alyssa
UPCOMING EVENTS:
August:
August 19th – Trip to Lake Anna
August 22nd – Pledge Meeting – 7:00 pm – Rainbow Meeting – 7:30 PM
August 27th – Called Meeting – initiation
September:
September 9th – Trip to Prince William Forest – Hike/Picnic
September 12th – Officers Meeting – 6:45 PM – Rainbow Meeting – 7:30 PM
September 14th – Royal Arch Dinner
September 23rd – Manassas/Fairfax GV – 2:00 PM
September 23rd – MC HQ WA Ball – 8:00 PM
September 26th – Pledge Meeting – 7:00 pm – Rainbow Meeting – 7:30 PM – JEAN NIGHT
September 29th, 30th, October 1st – Rainbow Retreat
October:
October 7th – Child ID
October 7th – Spaghetti Dinner Fund Raiser
October 10th – Officers Meeting – 6:45 PM – Rainbow Meeting – 7:30 PM
October 14th – Masonic Family Day
October 15th – Pumpkin Patch
October 21st – Scholarship Bowling
October 21st – Ashburn/Springfield GV
October 24th – Pledge Meeting – 7:00 pm – Rainbow Meeting – 7:30 PM
October 28th – Lodge Halloween Party
ASSEMBLY OFFICERS:
Worthy Advisor – Gigi
Worthy Associate Advisor – Katie
Charity – Kate
Hope – Delanie
Faith – Zoey
Treasurer – Vanessa
Chaplain – Zoe
Drill Leader – Joella
Love – Sami
Religion – Ashley
Nature – Mackenzie
Immortality – Isabella
Fidelity – M'Balu
Patriotism – Alyssa
Service – Batu
Confidential Observer – Maribel
Outer Observer – Lillian
Choir Director – Jazmyn
Choir – Alexis, Sydney, Emma, Chelsea, Kelsea, Sam, Selena, Abigale
PLEDGE MEMBERS:
Olivia
Riley
Ella
Kassidy