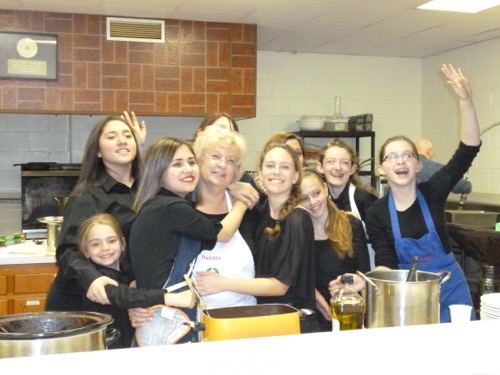 On March 5, 2016, Manassas Assembly hosted a Spaghetti Dinner. Dalanie, Sydney, Zoey, Vanessa, Katie, Sammi, Selena, Isabella, Kate, Olivia and I served guests and washed dishes. We were very pleased by the turn out, many adult leaders came to support us in our fundraising endeavours including the Worthy Matron and Royal Matron of our local OES Chapter and Amaranth Court, our Worshipful Master, Dad Chris, and our Supreme Deputy Mom Jenkins. Vegetarian sauce was provided by Dad Phil and the meat sauce was provided by local restaurant Mama Mia's Pizza. Both sauces proved to be great hits among Lodge members and guests. The rest of the food was prepared by Mom Debbie who worked incredibly hard with all the girls to make sure everything was perfect, without her, we wouldn't have gotten anything done. There were very few leftovers by the end of the night!
After people had finished their food and left, the girls had lots of fun joking around with each other while working to clean up, and of course, flinging water on each other while washing dishes.
All in all it was a great success and we look forward to upcoming events!
With Rainbow Love & Service,
Gigi
Tags:
Fun
,
Fundraising
,
Manassas