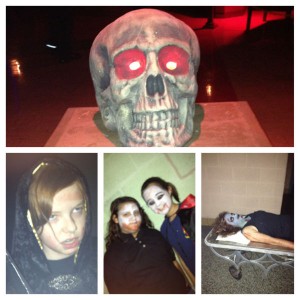 On October 27 and 28, 2012 Smithfield Assembly #5 volunteered to work at the Norfolk Masonic Temple in Norfolk.
Some people worked downstairs face painting while the rest worked upstairs tour guiding and scaring. On the first day Michelle and Lindsey face painted downstairs. Casey and Abby tour guided upstairs. Stevie, Lauren, and I worked in the Ghouls Room scaring people as they came through the room.
On the second day Lindsey and Liz did the face painting. Upstairs tour guiding was Casey, Kendra, Abbey, Nina, Vanessa, and I. Scaring was Bella and then later on Nina, Vanessa, and Kendra. Again we worked in the Ghouls Room.
At the temple, they also sold hotdogs, hamburgers, barbeque, fries, soda and water, and candy.
We were scheduled for Sunday October 29, but Hurricane Sandy made us cancel.
In Rainbow Love and Service,
Nellie Knodel
Smithfield No. 5