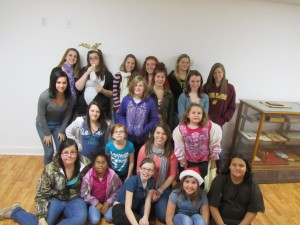 On December 20, 2011 Smithfield Assembly had their annual Holiday party.  To start the party we had a ton of food! After everyone had began to eat, Lauren and I(Stevie) revealed a surprise to the assembly. We had picked a superlative for each girl, prospect, pledge and adult.
Brittany was our only prospect and she received most active prospect.I was given best scented and I gave Lauren prettiest hair. Maddy received best memorizer, Lindsey received party animal, Victoria received most missed, abbey was given most athletic, Nellie was given most lovable, Kendra was given craziest girl, Vanessa received best attitude Michelle was most productive, Kirsten received most humorous, Nina was given gracefully clumsy, Caitlyn received prettiest eyes, Sydney got best smile, Emily received  most adorable, Casey  is friendliest, Tatiana has best imagination, Lauren received most kind hearted, Mom Phipps is most huggable, Mom Baise is most reliable, Mom Knodel received hardest worker, Dad Utt  got best dressed, and lastly was our cutest pledge, Alexis.
Everyone was very happy with their superlatives. After receiving their awards everyone decorated rainbow bags and made gingerbread men. It was a very fun and memorable night.
In Rainbow Love and Service
Stevie
Grand Musician and Grand Representative to Oregon
Smithfield Assembly #5