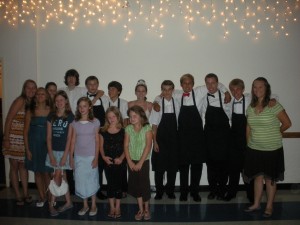 One Saturday morning, bright and early, Smithfield Assembly had a Pancake Breakfast Fundraiser at Applebee's.  It is such a wonderful Fundraiser.  Smithfield girls are pro at being waitresses.  We had signs posted, and high spirits as we waved at the cars passing by.  The good thing is, the Applebee's employees make the food and we just serve it! We had a hostess and about 6 waiters. Of course, the menu wasn't very hard because there is only one thing — what could go wrong. I did more of the socializing than the working, being Grand Worthy Advisor is a tough job. I ended my morning with a very filling pancake breakfast.
That's not all, it doesn't end with just breakfast, Grand Worthy Advisors must keep their bellies full!
I have thought about it long and hard, and I have come to my conclusion that the Masonic Family has the best food!  As I sat around that Saturday night, feeling like I could go for some delicious food, I remembered that Tidewater DeMolay was having a Spaghetti Dinner!  So I went, of course.  The boys did a GREAT job! They all had on a white shirt, black pants, bow ties, and aprons.  Not only did they look like real waiters but also the lights were dimmed and soft music was playing.  The night was very well planned, and so was the meal.  I walked in, and to my surprise, there was a bunch of Rainbow Girls there! Hampton Assembly went to the dinner to help out and enjoy the food.  After a little talking I was seated, and presented my salad, then my spaghetti; next came the dessert.  It was delicious, I don't think there was a crumb left on my plate.  No event is complete without handing out a couple of business cards, so that I did.  I met a couple of Masons and invited them to our Meetings.  I also met a Job's Daughter advisor!  We talked for a long time, exchanged cards, and soon enough I had an email inviting Rainbow Girls to her Bethel's fun activities.  See how easy that was!  We were invited to go tubing, and to an Ice Cream Social!  We are still trying hard to sync our schedules together.  Well, the night ended and I am still looking forward to visiting Tidewater Chapter again.
That's not all!  The next day, I received an email to attend an Ice Cream Social at St. Tammany Lodge in Hampton!  Who turns down ice cream?  I had a great time, and talked to the Masons and Eastern Star that were there.  I also had seconds!  It was great!  Thank you so much.
Now you know how a weekend in the life of the Grand Worthy Advisor is, although most times it's not just food events.